A lithium ion battery is a type of rechargeable battery in which lithium ions move from the negative electrode to the positive electrode during discharge, and reversely when charging. Different types of lithium-ion batteries use different chemistry and have different performance, cost, and safety characteristics. Unlike lithium primary batteries (=disposable batteries), lithium-ion cells use an intercalated lithium compound as the electrode material instead of metallic lithium.
Lithium Ion batteries are one of the most popular types of battery for portable electronics, with one of the best energy-to-weight ratios, no memory effect, and a slow loss of charge when not in use. In addition to uses for consumer electronics, Li-ion batteries are growing in popularity for defense, electric vehicles, and aerospace applications due to their high energy density.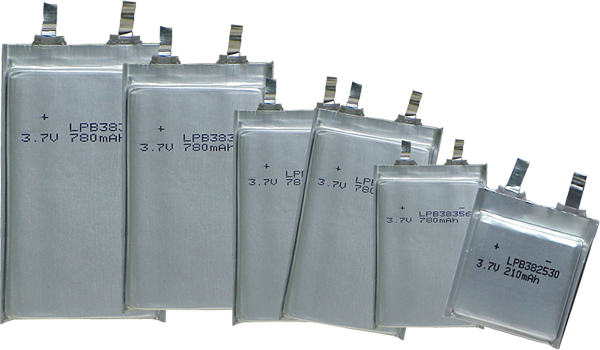 The three primary functional components of a lithium-ion battery are the anode, cathode, and electrolyte. The anode is made from carbon, the cathode is lithium cobalt oxide, and the electrolyte is a lithium salt in an organic solvent.
The three participants in the electrochemical reactions in a lithium-ion battery are the anode, cathode, and electrolyte.
Both the anode and cathode are materials into which, and from which, lithium can migrate. When a lithium-based cell is discharging, the lithium is extracted from the anode and inserted into the cathode. When the cell is charging, the reverse process occurs: lithium is extracted from the cathode and inserted into the anode.
The cathode half-reaction


In a lithium-ion battery the lithium ions are transported to and from the cathode or anode, with the transition metal, cobalt (Co), in LixCoO2 being oxidized from Co3+ to Co4+ during charging, and reduced from Co4+ to Co3+ during discharge. MIAMOTO Lithium ion batteries offer polymer, cylindrical and button shape, please check it out in our product list.
Lithium Polymer
Standard Type
| Model | Nominal Capacity (mAh) | Nominal Voltage (V) | Thickness (mm) | Width (mm) | Height (mm) | Weight (g) | Max. Continuous Current | Max. Pulse Current |
| --- | --- | --- | --- | --- | --- | --- | --- | --- |
| Model | Nominal Capacity (mAh) | Nominal Voltage (V) | Thickness (mm) | Width (mm) | Height (mm) | Weight (g) | Max. Continuous Current | Max. Pulse Current |
| LP201030 | 40 | 3.7 | 2 | 10 | 30 | 1 | 1C | 2C |
| LP501023 | 70 | 3.7 | 5 | 10 | 23 | 1.8 | 1C | 2C |
| LP401220 | 60 | 3.7 | 4 | 12 | 20 | 1.3 | 1C | 2C |
| LP381225 | 80 | 3.7 | 4 | 12 | 25 | 1.9 | 1C | 2C |
| LP401230 | 110 | 3.7 | 4 | 12 | 30 | 2.5 | 1C | 2C |
| LP451321 | 75 | 3.7 | 4.5 | 13 | 21 | 1.9 | 1C | 2C |
| LP581519 | 100 | 3.7 | 5.2 | 15 | 19 | 2.2 | 1C | 2C |
| LP451543 | 260 | 3.7 | 4.5 | 15 | 43 | 5.3 | 1C | 2C |
| LP401545 | 220 | 3.7 | 4 | 15 | 45 | 4.7 | 1C | 2C |
| LP751557 | 650 | 3.7 | 7.5 | 15 | 57 | 12 | 1C | 2C |
| LP601730 | 220 | 3.7 | 6 | 17 | 30 | 4.9 | 1C | 2C |
| LP322027 | 160 | 3.7 | 3.4 | 20 | 27 | 3.4 | 1C | 2C |
| LP6020120 | 1450 | 3.7 | 5.6 | 20 | 120 | 29 | 1C | 2C |
| LP502035 | 300 | 3.7 | 5 | 20 | 35 | 6.2 | 1C | 2C |
| LP402030 | 175 | 3.7 | 4 | 20 | 30 | 3.9 | 1C | 2C |
| LP602025 | 240 | 3.7 | 6 | 20 | 25 | 4.9 | 1C | 2C |
| LP402025 | 150 | 3.7 | 4 | 20 | 25 | 3.2 | 1C | 2C |
| LP102026 | 22 | 3.7 | 1 | 20 | 26 | 0.45 | 1C | 2C |
| LP452030 | 200 | 3.7 | 4.5 | 20 | 30 | 4.8 | 1C | 2C |
| LP552240 | 400 | 3.7 | 5 | 22 | 40 | 8.5 | 1C | 2C |
| LP952362 | 1500 | 3.7 | 10 | 23 | 62 | 27 | 1C | 2C |
| LP5023104 | 1200 | 3.7 | 5.2 | 23 | 104 | 24 | 1C | 2C |
| LP352426 | 180 | 3.7 | 3.5 | 24 | 26 | 3.7 | 1C | 2C |
| LP502435 | 350 | 3.7 | 5 | 24 | 35 | 7.4 | 1C | 2C |
| LP752440 | 740 | 3.7 | 7.2 | 24 | 40 | 13.5 | 1C | 2C |
| LP902535 | 700 | 3.7 | 8.8 | 25 | 35 | 13 | 1C | 2C |
| LP4528135 | 1800 | 3.7 | 4.5 | 28 | 135 | 36 | 1C | 2C |
| LP5528135 | 2200 | 3.7 | 5.4 | 29 | 135 | 42 | 1C | 2C |
| LP823038 | 900 | 3.7 | 8.6 | 29.5 | 38 | 18 | 1C | 2C |
| LP103048 | 1500 | 3.7 | 9.8 | 30 | 48.5 | 28 | 1C | 2C |
| LP823090 | 2600 | 3.7 | 8.2 | 30 | 90 | 47 | 1C | 2C |
| LP853080 | 2200 | 3.7 | 8.3 | 30 | 80 | 41 | 1C | 2C |
| LP683033 | 600 | 3.7 | 6.5 | 30 | 33 | 12 | 1C | 2C |
| LP553055 | 1000 | 3.7 | 6.2 | 30 | 55 | 20 | 1C | 2C |
| LP583048 | 800 | 3.7 | 5.8 | 30 | 48 | 16 | 1C | 2C |
| LP953048 | 1420 | 3.7 | 10.5 | 30 | 48 | 26 | 1C | 2C |
| LP703048 | 1000 | 3.7 | 7.2 | 30 | 48 | 20 | 1C | 2C |
| LP753048 | 1100 | 3.7 | 7 | 30 | 48 | 20 | 1C | 2C |
| LP603048 | 850 | 3.7 | 5.6 | 30 | 48 | 16 | 1C | 2C |
| LP453048 | 600 | 3.7 | 4.5 | 30 | 48 | | 1C | 2C |
| LP403048P | 450 | 3.7 | 4 | 30 | 48 | 11 | 1C | 2C |
| LP653046 | 900 | 3.7 | 6.5 | 30 | 46 | 17 | 1C | 2C |
| LP503046 | 700 | 3.7 | 5.2 | 30 | 46 | 14 | 1C | 2C |
| LP803033 | 730 | 3.7 | 7.6 | 30 | 33 | 14 | 1C | 2C |
| LP753048 | 1100 | 3.7 | 7 | 30 | 48 | 20 | 1C | 2C |
| LP603080 | 1500 | 3.7 | 5.5 | 30 | 80 | 28 | 1C | 2C |
| LP703255 | 1200 | 3.7 | 7 | 32 | 55 | 24 | 1C | 2C |
| LP583273 | 1500 | 3.7 | 5.8 | 32 | 73 | 28 | 1C | 2C |
| LP623296 | 2000 | 3.7 | 6 | 32 | 96 | 38 | 1C | 2C |
| LP503448 | 800 | 3.7 | 5.2 | 34 | 48 | 16 | 1C | 2C |
| LP963448 | 1500 | 3.7 | 8.5 | 34 | 48 | 27 | 1C | 2C |
| LP503450 | 850 | 3.7 | 5 | 34 | 50 | | 1C | 2C |
| LP603450 | 1000 | 3.7 | 6 | 34 | 50 | 20 | 1C | 2C |
| LP953450 | 1700 | 3.7 | 9.5 | 34 | 50 | 32 | 1C | 2C |
| LP6834125 | 3000 | 3.7 | 6.8 | 34 | 125 | 57 | 1C | 2C |
| LP103450 | 1800 | 3.7 | 10.2 | 34 | 50 | 32 | 1C | 2C |
| LP603562 | 1300 | 3.7 | 6.2 | 35 | 62 | 26 | 1C | 2C |
| LP703562 | 1600 | 3.7 | 7 | 35 | 62 | 30 | 1C | 2C |
| LP853562 | 2000 | 3.7 | 8.3 | 35 | 62 | 36 | 1C | 2C |
| LP503562 | 1100 | 3.7 | 4.6 | 35 | 62 | 22 | 1C | 2C |
| LP633650 | 120 | 3.7 | 5.9 | 36 | 50 | 21 | 1C | 2C |
| LP753650 | 1400 | 3.7 | 7.7 | 36 | 50 | 26 | 1C | 2C |
| LP753758 | 1800 | 3.7 | 7.5 | 37 | 59 | 33 | 1C | 2C |
| LP103746 | 1750 | 3.7 | 10 | 37 | 46 | 31 | 1C | 2C |
| LP423885 | 1450 | 3.7 | 4.2 | 38 | 85 | 28 | 1C | 2C |
| LP683885 | 2400 | 3.7 | 6.5 | 38 | 85 | 44 | 1C | 2C |
| LP683945 | 1400 | 3.7 | 6.8 | 39 | 44 | 24 | 1C | 2C |
| LP804044 | 1400 | 3.7 | 8 | 40 | 44 | 26 | 1C | 2C |
| LP624258 | 1650 | 3.7 | 6 | 42 | 58 | 30 | 1C | 2C |
| LP804285 | 3300 | 3.7 | 7.6 | 42 | 85 | 60 | 1C | 2C |
| LP704295 | 3400 | 3.7 | 7 | 42 | 95 | 61 | 1C | 2C |
| LP7543128 | 5000 | 3.7 | 7.7 | 43 | 128 | 94 | 1C | 2C |
| LP5543128 | 3600 | 3.7 | 5.5 | 43 | 128 | 65 | 1C | 2C |
| LP6443128 | 4000 | 3.7 | 6 | 43 | 128 | 73 | 1C | 2C |
| LP704460 | 2000 | 3.7 | 6.7 | 44 | 60 | 37 | 1C | 2C |
| LP4045100 | 2000 | 3.7 | 4 | 45 | 100 | 39 | 1C | 2C |
| LP5045100 | 2600 | 3.7 | 5 | 45 | 100 | 48 | 1C | 2C |
| LP6045100 | 3300 | 3.7 | 6 | 45 | 100 | 60 | 1C | 2C |
| LP7045100 | 3600 | 3.7 | 6.8 | 45 | 100 | 67 | 1C | 2C |
| LP8045135P | 5000 | 3.7 | 8 | 45 | 135 | 106 | 1C | 2C |
| LP304782 | 1300 | 3.7 | 3.5 | 47 | 82 | 25 | 1C | 2C |
| LP4048135 | 3000 | 3.7 | 4 | 48 | 135 | 57 | 1C | 2C |
| LP6848135 | 5000 | 3.7 | 6.5 | 48 | 135 | 88 | 1C | 2C |
| LP404884 | 1800 | 3.7 | 4.2 | 48 | 84 | 35 | 1c | 2c |
| LP5548135 | 4200 | 3.7 | 5.6 | 48 | 135 | 79 | 1C | 2C |
| LP824884 | 4000 | 3.7 | 8.5 | 48 | 84 | 73 | 1C | 2C |
| LP804884 | 3900 | 3.7 | 7.8 | 48 | 84 | 68 | 1C | 2C |
| LP554884 | 2500 | 3.7 | 5.5 | 48 | 84 | 46 | 1C | 2C |
| LP104884 | 5000 | 3.7 | 10 | 48 | 84 | 86 | 1C | 2C |
| LP654884 | 3000 | 3.7 | 6.6 | 48 | 84 | 55 | 1C | 2C |
| LP805095 | 4500 | 3.7 | 7.8 | 50 | 95 | 81 | 1C | 2C |
| LP805060 | 2700 | 3.7 | 8 | 50 | 60 | 49 | 1C | 2C |
| LP305069 | 1000 | 3.7 | 3 | 50 | 69 | 20 | 1C | 2C |
| LP555069 | 2000 | 3.7 | 5.2 | 50 | 69 | 36 | 1C | 2C |
| LP655069 | 2500 | 3.7 | 6.5 | 50 | 69 | 46 | 1C | 2C |
| LP355069 | 1350 | 3.7 | 3.7 | 50 | 69 | 26 | 1C | 2C |
| LP455095 | 2000 | 3.7 | 4.5 | 50 | 95 | 40 | 1C | 2C |
| LP505497 | 3300 | 3.7 | 5.5 | 54 | 94 | 61 | 1C | 2C |
| LP605585 | 3200 | 3.7 | 6 | 55 | 85 | 60 | 1C | 2C |
| LP705585 | 4000 | 3.7 | 7.2 | 55 | 85 | 72 | 1C | 2C |
| LP605559 | 2000 | 3.7 | 5.5 | 55 | 60 | 38 | 1C | 2C |
| LP455690 | 2300 | 3.7 | 4.2 | 56 | 90 | 44 | 1C | 2C |
| LP505690 | 3100 | 3.7 | 5.2 | 56 | 90 | 57 | 1C | 2C |
| LP555690 | 3200 | 3.7 | 5.5 | 56 | 90 | 60 | 1C | 2C |
| LP806580 | 5000 | 3.7 | 8.5 | 65 | 80 | 92 | 1C | 2C |
| LP5567102 | 4100 | 3.7 | 4.8 | 66 | 102 | 73 | 1C | 2C |
| LP4867102 | 3400 | 3.7 | 4.5 | 67 | 102 | 64 | 1C | 2C |
| LP8574135 | 10Ah | 3.7 | 8.7 | 73.5 | 135 | 136 | 1C | 2C |
Lithium Polymer
High Power Type
| Model | Nominal Capacity (mAh) | Nominal Voltage (V) | Thickness (mm) | Width (mm) | Height (mm) | Weight (g) | Internal Resistance (m Ohm) | Max. Continuous Current | Max. Pulse Current |
| --- | --- | --- | --- | --- | --- | --- | --- | --- | --- |
| Model | Nominal Capacity (mAh) | Nominal Voltage (V) | Thickness (mm) | Width (mm) | Height (mm) | Weight (g) | Internal Resistance (m Ohm) | Max. Continuous Current | Max. Pulse Current |
| LP621789P | 700 | 3.7 | 5.5 | 17 | 89 | | <35 | 15C | 30C |
| LP801723P | 180 | 3.7 | 8 | 17 | 23 | 4.8 | <110 | 15C | 30C |
| LP5517170P | 1300 | 3.7 | 5.5 | 17 | 170 | 30 | <20 | 15C | 30C |
| LP582025P | 200 | 3.7 | 6 | 20 | 25 | 4.9 | <110 | 15C | 30C |
| LP702030P | 270 | 3.7 | 7.5 | 20 | 30 | 7.8 | <75 | 15C | 30C |
| LP6220120P | 1300 | 3.7 | 6.5 | 20 | 120 | 32 | <25 | 15C | 30C |
| LP502025P | 150 | 3.7 | 5 | 20 | 25 | 4 | <100 | 15C | 30C |
| LP5520100P | 950 | 3.7 | 5.7 | 20 | 100 | 22 | <30 | 15C | 30C |
| LP902240P | 650 | 3.7 | 9.5 | 22 | 40 | 15 | <60 | 15C | 30C |
| LP683048P | 800 | 3.7 | 6.8 | 30 | 48 | 19 | <20 | 15C | 30C |
| LP903048P | 1100 | 3.7 | 9.4 | 30 | 48 | 26 | <30 | 15C | 30C |
| LP403090P | 1000 | 3.7 | 4.2 | 30 | 90 | 24 | <10 | 15C | 30C |
| LP823048P | 1000 | 3.7 | 8 | 30 | 48.5 | 23 | <10 | 15C | 30C |
| LP723048P | 850 | 3.7 | 7 | 30 | 49 | 20 | <10 | 15C | 30C |
| LP603048P | 700 | 3.7 | 6 | 30 | 48 | 16 | <40 | 15C | 30C |
| LP533048P | 600 | 3.7 | 5.5 | 30 | 48.5 | 15 | <30 | 15C | 30C |
| LP553046P | 600 | 3.7 | 5.5 | 30 | 46 | 15 | <40 | 15C | 30C |
| LP743048P | 900 | 3.7 | 7.4 | 30 | 48 | 21 | <16 | 15C | 30C |
| LP853080P | 1800 | 3.7 | 8.5 | 30 | 80 | 40 | <6 | 15C | 30C |
| LP753090P | 1900 | 3.7 | 7.5 | 30 | 90 | 43 | <10 | 15C | 30C |
| LP763080P | 1500 | 3.7 | 7 | 30 | 80 | 35 | <6 | 15C | 30C |
| LP653296P | 1800 | 3.7 | 6.5 | 32 | 96 | 41 | <6 | 15C | 30C |
| LP403362P | 620 | 3.7 | 4 | 33 | 62 | 17 | <30 | 15C | 30C |
| LP683496P | 2000 | 3.7 | 6.8 | 34 | 96 | 46 | <7 | 15C | 30C |
| LP1034104P | 3350 | 3.7 | 10 | 34 | 106 | 74 | <5 | 15C | 30C |
| LP7834125P | 3000 | 3.7 | 7.5 | 34 | 125 | 67 | <4 | 15C | 30C |
| LP703480P | 1700 | 3.7 | 7 | 34 | 80 | 42 | <10 | 15C | 30C |
| LP603496P | 1800 | 3.7 | 5.8 | 34 | 96 | 41 | <6 | 15C | 30C |
| LP623480P | 1500 | 3.7 | 6 | 34 | 80 | 33 | <12 | 15C | 30C |
| LP723496P | 2200 | 3.7 | 7 | 34 | 96 | 49 | <6 | 15C | 30C |
| LP483562P | 850 | 3.7 | 4.6 | 35 | 62 | 20 | <32 | 15C | 30C |
| LP803562P | 1500 | 3.7 | 7.6 | 35 | 62 | 34 | <8 | 15C | 30C |
| LP533562P | 1000 | 3.7 | 5.3 | 35 | 62 | 24 | <12 | 15C | 30C |
| LP703562P | 1300 | 3.7 | 7 | 35 | 62 | 30 | <7 | 15C | 30C |
| LP754258P | 1600 | 3.7 | 7.3 | 42 | 58 | 36 | <6 | 15C | 30C |
| LP8545135P | 5200 | 3.7 | 8.5 | 45 | 135 | 112 | <3 | 15C | 30C |
| LP5260150P | 5000 | 3.7 | 5.5 | 60 | 150 | 113 | <5 | 15C | 30C |
| LP551132HP | 120 | 3.7 | 5.7 | 10.5 | 32 | 3.3 | <100 | 20C | 40C |
| LP551140HP | 150 | 3.7 | 5.7 | 11 | 40 | 4 | <98 | 20C | 40C |
| W481140HP | 120 | 3.7 | 4.8 | 11 | 40 | 3.3 | <90 | 20C | 40C |
| LP601235HP | 150 | 3.7 | 6 | 12 | 35 | 4 | <100 | 20C | 40C |
| LP551220HP | 70 | 3.7 | 6 | 12 | 20 | 2 | <240 | 20C | 40C |
| LP401218HP | 35 | 3.7 | 4.2 | 12 | 18 | 1.1 | <450 | 20C | 40C |
| LP551230HP | 130 | 3.7 | 5.5 | 12 | 30 | 3.2 | <98 | 20C | 40C |
| LP601417HP | 75 | 3.7 | 6.3 | 14 | 18 | 2.1 | <160 | 20C | 40C |
| LP4514150HP | 720 | 3.7 | 4.8 | 14 | 149.5 | 20 | <35 | 20C | 40C |
| LP321545HP | 150 | 3.7 | 3.5 | 15 | 45 | 4 | <90 | 20C | 40C |
| LP701522P | 130 | 3.7 | 7 | 15 | 22 | | <140 | 20C | 40C |
| LP431528HP | 100 | 3.7 | 4.5 | 15 | 28 | 2.9 | <110 | 20C | 40C |
| LP581522HP | 100 | 3.7 | 6.2 | 15 | 22 | 3.3 | <180 | 20C | 40C |
| LP551522HP | 100 | 3.7 | 5.5 | 15 | 22 | 2.8 | <140 | 20C | 40C |
| LP701717P | 100 | 3.7 | 7 | 17 | 17 | 2.7 | <160 | 20C | 40C |
| LP501717HP | 80 | 3.7 | 5 | 17 | 17 | 2.3 | <130 | 20C | 40C |
| LP751723HP | 180 | 3.7 | 7.6 | 17 | 23 | 4.5 | <100 | 20C | 40C |
| LP7017120HP | 1100 | 3.7 | 7 | 17 | 120 | 27 | <30 | 20C | 40C |
| LP651723HP | 150 | 3.7 | 7 | 17 | 23 | 4.17 | <100 | 20C | 40C |
| LP702025P | 220 | 3.7 | 7 | 20 | 25 | 5.6 | <90 | 20C | 40C |
| LP702035HP | 350 | 3.7 | 7 | 20 | 35 | 8.8 | <70 | 20C | 40C |
| LP6520100HP | 1050 | 3.7 | 6.5 | 20 | 100 | 25 | <90 | 20C | 40C |
| LP852035HP | 450 | 3.7 | 8.7 | 20 | 35 | 11 | <70 | 20C | 40C |
| LP6020120HP | 1200 | 3.7 | 6.3 | 20 | 120 | 31 | <20 | 20C | 40C |
| LP652025HP | 200 | 3.7 | 6.7 | 20 | 25 | 5.2 | <100 | 20C | 40C |
| LP602025HP | 180 | 3.7 | 6.4 | 20 | 25 | 5 | <90 | 20C | 40C |
| LP452030HP | 180 | 3.7 | 4.8 | 20 | 30 | 4.7 | <90 | 20C | 40C |
| LP652030HP | 250 | 3.7 | 6.5 | 20 | 30 | 6.5 | <80 | 20C | 20C |
| LP802030HP | 300 | 3.7 | 8 | 20 | 30 | | <80 | 20C | 40C |
| LP532030HP | 200 | 3.7 | 5.2 | 20 | 30 | 5.2 | <80 | 20C | 40C |
| LP652195HP | 1100 | 3.7 | 6.7 | 20.5 | 95 | 21 | <32 | 20C | 40C |
| LP682240HP | 400 | 3.7 | 6.8 | 22 | 40 | | <60 | 20C | 40C |
| LP652240HP | 400 | 3.7 | 6.8 | 22 | 40 | 11 | <50 | 20C | 40C |
| W602351HP | 500 | 3.7 | 6 | 23 | 51 | 12.5 | <50 | 20C | 40C |
| LP702540HP | 530 | 3.7 | 7 | 25 | 40 | 13 | <50 | 20C | 40C |
| LP752535HP | 480 | 3.7 | 7 | 25 | 35 | 11.5 | <65 | 20C | 40C |
| LP852540HP | 600 | 3.7 | 8.6 | 25 | 40 | 15 | <27 | 20C | 40C |
| LP952540HP | 700 | 3.7 | 9.5 | 25 | 40 | 17.5 | <34 | 20C | 40C |
| LP602562HP | 800 | 3.7 | 6 | 25 | 62 | 19 | <20 | 20C | 40C |
| LP663052HP | 800 | 3.7 | 6.2 | 30 | 52 | 19 | <30 | 20C | 40C |
| LP753048HP | 850 | 3.7 | 7.5 | 30 | 49 | 20 | <16 | 20C | 40C |
| LP503052HP | 600 | 3.7 | 4.8 | 30 | 52 | 14.5 | <20 | 20C | 40C |
| LP583048HP | 650 | 3.7 | 5.6 | 30 | 49 | 16 | <15 | 20C | 40C |
| LP483052HP | 600 | 3.7 | 4.8 | 30 | 52 | 14.5 | <15 | 20C | 40C |
| LP903052HP | 1150 | 3.7 | 9 | 30 | 52 | 26.5 | <13 | 20C | 40C |
| LP533090HP | 1300 | 3.7 | 5.3 | 30 | 90 | 30.5 | <15 | 20C | 40C |
| LP503090HP | 1200 | 3.7 | 5 | 30 | 90 | 28 | <9 | 20C | 40C |
| LP703048P | 800 | 3.7 | 7 | 30 | 48 | 20 | <25 | 20C | 40C |
| LP973048HP | 1150 | 3.7 | 9 | 30 | 49 | 26 | <12 | 20C | 40C |
| LP663090HP | 1600 | 3.7 | 6.6 | 30 | 90 | 37 | <8 | 20C | 40C |
| LP463090HP | 1100 | 3.7 | 5 | 30 | 90 | 27 | <9 | 20C | 40C |
| LP703060HP | 1000 | 3.7 | 6.8 | 30 | 60 | 25 | <12 | 20C | 40C |
| LP803048HP | 850 | 3.7 | 8 | 30 | 48 | 22 | <30 | 20C | 40C |
| LP653052HP | 800 | 3.7 | 6.3 | 30 | 52 | 19 | <15 | 20C | 40C |
| LP763255HP | 1100 | 3.7 | 7.5 | 32 | 55 | 26 | <9 | 20C | 40C |
| LP533367HP | 950 | 3.7 | 5.2 | 33 | 67 | 23 | <9 | 20C | 40C |
| LP7534106HP | 2200 | 3.7 | 7.5 | 34 | 106 | 51 | <5 | 20C | 40C |
| LP503480HP | 1200 | 3.7 | 5 | 34 | 80 | 29 | <7 | 20C | 40C |
| LP8234106HP | 2600 | 3.7 | 8.2 | 34 | 106 | 60 | <5 | 20C | 40C |
| LP483496HP | 1300 | 3.7 | 4.5 | 34 | 96 | 31 | <8 | 20C | 40C |
| LP753496HP | 2200 | 3.7 | 7.2 | 34 | 96 | 50 | <4 | 20C | 40C |
| LP663480HP | 1500 | 3.7 | 6.8 | 34 | 80 | 35 | <8 | 20C | 40C |
| LP583456HP | 800 | 3.7 | 5.6 | 34 | 56 | 20 | <30 | 20C | 40C |
| LP733496HP | 2100 | 3.7 | 7.3 | 34 | 96 | 48 | <6 | 20C | 40C |
| LP503480HP | 1200 | 3.7 | 5.2 | 34 | 80 | 30 | <12 | 20C | 30C |
| LP723562HP | 1300 | 3.7 | 7.3 | 35 | 62 | 30 | <8 | 20C | 40C |
| LP583562HP | 1000 | 3.7 | 5.5 | 35 | 62 | 24 | <12 | 20C | 40C |
| LP823562HP | 1500 | 3.7 | 7.8 | 35 | 62 | 34 | <6 | 20C | 40C |
| LP9836120HP | 4000 | 3.7 | 9.8 | 35.5 | 120 | 87 | <2.5 | 20C | 40C |
| LP7036120HP | 2800 | 3.7 | 7.2 | 36 | 120 | 66 | <3.5 | 20C | 40C |
| LP8536120HP | 3400 | 3.7 | 8.5 | 36 | 120 | 76 | <3 | 20C | 40C |
| LP5542125HP | 2500 | 3.7 | 5.5 | 42 | 125 | 64 | <4 | 20C | 40C |
| LP904256HP | 2000 | 3.7 | 9 | 42 | 56 | 43 | <5 | 20C | 40C |
| LP6842125HP | 3200 | 3.7 | 6.8 | 42 | 125 | 73 | <4 | 20C | 40C |
| LP4543128HP | 2300 | 3.7 | 4.5 | 43 | 128 | 55 | <5 | 20C | 40C |
| LP4843128HP | 2500 | 3.7 | 4.8 | 43 | 128 | 58 | <5 | 20C | 40C |
| LP7843150HP | 4800 | 3.7 | 7.8 | 43 | 150 | 109 | <4 | 20C | 40C |
| LP7343128HP | 3600 | 3.7 | 6.8 | 43 | 128 | 83 | <4 | 20C | 40C |
| LP5544130HP | 3000 | 3.7 | 5.7 | 44 | 130 | 68 | <4 | 20C | 40C |
| LP5644130HP | 3200 | 3.7 | 5.6 | 44 | 130 | 69 | <3 | 20C | 40C |
| LP6845135HP | 3600 | 3.7 | 7 | 45 | 135 | 83 | <4 | 20C | 40C |
| LP8048135HP | 4800 | 3.7 | 8 | 48 | 135 | 109 | <3 | 20C | 40C |
| LP6048135HP | 3200 | 3.7 | 6 | 48 | 135 | 72 | <4 | 20C | 40C |
| LP551417SP | 60 | 3.7 | 5.5 | 14 | 17 | 1.9 | <200 | 25C | 50C |
| LP552036SP | 250 | 3.7 | 5.5 | 20 | 36 | 7 | <75 | 25C | 50C |
| LP902530SP | 400 | 3.7 | 8.5 | 25 | 30 | 12 | <40 | 25C | 50C |
| LP802540SP | 500 | 3.7 | 7.4 | 25 | 40 | 14 | <50 | 25C | 50C |
| LP502562SP | 600 | 3.7 | 5.3 | 25 | 62 | 16 | <14 | 25C | 50C |
| LP453048SP | 450 | 3.7 | 4.5 | 30 | 48 | 12 | <16 | 25C | 50C |
| LP603048SP | 600 | 3.7 | 5.5 | 30 | 49 | 16 | <15 | 25C | 50C |
| LP783048SP | 850 | 3.7 | 7.6 | 30 | 48 | 21 | <12 | 25C | 50C |
| LP723090SP | 1600 | 3.7 | 7.2 | 30.5 | 90 | 40 | <5 | 25C | 50C |
| LP8334106SP | 2600 | 3.7 | 8.3 | 34 | 106 | 62 | <4 | 25C | 50C |
| LP403496SP | 1100 | 3.7 | 4 | 34 | 96 | 28 | <8 | 25C | 50C |
| LP553496SP | 1500 | 3.7 | 5.5 | 34 | 96 | 38 | <6 | 25C | 50C |
| LP6834106SP | 2100 | 3.7 | 6.8 | 34 | 106 | 50 | <5 | 25C | 50C |
| LP883496SP | 2600 | 3.7 | 8.6 | 34 | 96 | 61 | <4 | 25C | 50C |
| LP603562SP | 1000 | 3.7 | 5.8 | 35 | 62 | 26 | <8 | 25C | 50C |
| LP453562SP | 750 | 3.7 | 4.5 | 35 | 62 | 20 | <14 | 25C | 50C |
| LP703562SP | 1200 | 3.7 | 7 | 35 | 62 | 30 | <8 | 25C | 50C |
| LP1042125SP | 5000 | 3.7 | 10 | 42 | 1125 | 117 | <4 | 25C | 50C |
| LP7042125SP | 3200 | 3.7 | 7 | 42 | 125 | 80 | <4 | 25C | 40C |
| LP7542125SP | 3600 | 3.7 | 7.3 | 42 | 125 | 84 | <3 | 25C | 50C |
| LP8842125SP | 4000 | 3.7 | 8.5 | 42 | 125 | 97 | <3 | 25C | 50C |
| LP1043128SP | 5000 | 3.7 | 10 | 43 | 128 | 118 | <3 | 25C | 50C |
| LP9043150SP | 5000 | 3.7 | 9 | 43 | 150 | 118 | <3 | 25C | 50C |
| LP8043150SP | 4500 | 3.7 | 8 | 43 | 150 | 109 | <3 | 25C | 50C |
| LP4843128SP | 2000 | 3.7 | 4.3 | 43 | 128 | 54 | <5 | 25C | 50C |
| LP8243128SP | 4000 | 3.7 | 8 | 43 | 128 | 96 | <3.5 | 25C | 50C |
| LP6843128SP | 3200 | 3.7 | 7 | 43 | 128 | 78 | <4 | 25C | 50C |
| LP7843128SP | 3800 | 3.7 | 7.6 | 43 | 128 | 89 | <3 | 25C | 50C |
| LP7043128SP | 3400 | 3.7 | 7 | 43 | 128 | 80 | <4 | 25C | 50C |
| LP6043128SP | 2800 | 3.7 | 5.7 | 43 | 128 | 68 | <4 | 25C | 50C |
| LP7543150SP | 4000 | 3.7 | 7.5 | 43 | 150 | 97 | <3 | 25C | 50C |
| LP9545135SP | 5000 | 3.7 | 9.2 | 45 | 135 | 121 | <3 | 25C | 50C |
| LP8545180SP | 6000 | 3.7 | 8 | 45 | 180 | 141 | <4 | 25C | 50C |
| LP9245135SP | 5000 | 3.7 | 9 | 45 | 135 | 114 | <4 | 25C | 50C |
| LP605060SP | 1500 | 3.7 | 6 | 50 | 60 | 36 | <8 | 25C | 50C |
| LP250928SP | 30 | 3.7 | 2.7 | 9 | 28 | 1.1 | <260 | 25C | 50C |
| LP602875SP | 1000 | 3.7 | 6.2 | 28 | 75 | 27 | <9 | 30C | 60C |
| LP743255SP | 1000 | 3.7 | 7.4 | 32 | 55 | 25 | <12 | 30C | 60C |
| LP783496SP | 2200 | 3.7 | 7.6 | 34 | 96 | 52 | <5 | 30C | 60C |
| LP753496SP | 2100 | 3.7 | 7.5 | 34 | 96 | 50 | <5 | 30C | 60C |
| LP683496SP | 1800 | 3.7 | 6 | 34 | 96 | 43 | <5 | 30C | 60C |
| LP803480SP | 1800 | 3.7 | 7.8 | 34 | 80 | 44 | <5 | 30C | 60C |
| LP783480SP | 1700 | 3.7 | 7.4 | 34 | 80 | 42 | <6 | 30C | 60C |
| LP683480SP | 1500 | 3.7 | 6.4 | 34 | 80 | 37 | <6 | 30C | 60C |
| LP553480SP | 1200 | 3.7 | 5.3 | 34 | 80 | 30 | <7 | 30C | 60C |
| LP703592SP | 1900 | 3.7 | 7 | 35 | 92 | 48 | <6 | 30C | 60C |
| LP753562SP | 1300 | 3.7 | 7 | 35 | 62 | 31 | <8 | 30C | 60C |
| LP4542125SP | 2000 | 3.7 | 4.5 | 42 | 125 | 51 | <5 | 30C | 60C |
| LP6543128SP | 3000 | 3.7 | 6.2 | 43 | 128 | 73 | <3.5 | 30C | 60C |
| LP8245135SP | 4000 | 3.7 | 7.2 | 45 | 135 | 96 | <4 | 30C | 60C |
| LP7245135SP | 3600 | 3.7 | 7 | 45 | 135 | 87 | <4 | 30C | 60C |
| LP8534106XP | 2600 | 3.7 | 8.2 | 34 | 106 | 64 | <4 | 35C | 70C |
| LP803496XP | 2200 | 3.7 | 8 | 34 | 96 | 55 | <4 | 35C | 70C |
| LP7834106XP | 2200 | 3.7 | 8 | 34 | 105.5 | 54 | <4 | 35C | 70C |
| LP603562XP | 1000 | 3.7 | 6 | 35 | 62 | 26 | <7 | 35C | 70C |
| LP453562SP | 750 | 3.7 | 4.5 | 35 | 62 | 20 | <12 | 35C | 70C |
| LP5542125SP | 2500 | 3.7 | 5.5 | 42 | 125 | 61 | <4 | 35C | 70C |
| LP8843128XP | 4400 | 3.7 | 8.8 | 43 | 128 | 110 | <3 | 35C | 70C |
| LP7543150XP | 4000 | 3.7 | 7 | 43 | 150 | 97 | <3 | 35C | 70C |
| LP5543128XP | 2500 | 3.7 | 5.3 | 43 | 128 | 62 | <4 | 35C | 70C |
| LP5043128XP | 2300 | 3.7 | 4.7 | 43 | 128 | 56 | <4 | 35C | 70C |
| LP5244130XP | 2500 | 3.7 | 5.2 | 44 | 130 | 63 | <4 | 35C | 70C |
| LP6545135SP | 3200 | 3.7 | 6.5 | 45 | 135 | 87 | <3 | 35C | 70C |
| LP9048135XP | 5000 | 3.7 | 9 | 48 | 135 | 122 | <3 | 35C | 70C |
| LP9034106EP | 2600 | 3.7 | 9 | 34 | 106 | 68 | <4 | 45C | 90C |
| LP953496EP | 2500 | 3.7 | 9.8 | 34 | 96 | 68 | <3 | 45C | 90C |
| LP8534106EP | 2200 | 3.7 | 8.3 | 34 | 106 | 60 | <4 | 45C | 90C |
| LP863496EP | 2200 | 3.7 | 8.6 | 34 | 96 | 59 | <4 | 45C | 90C |
| LP703496EP | 1800 | 3.7 | 7 | 34 | 96 | 48 | <4 | 45C | 90C |
| LP783562EP | 1300 | 3.7 | 8.5 | 35 | 62 | 36 | <6 | 45C | 90C |
| LP7842125EP | 3700 | 3.7 | 8.4 | 42 | 124.5 | 98 | <3 | 45C | 90C |
| LP7042125EP | 3000 | 3.7 | 7.2 | 42 | 125 | 81 | <3 | 45C | 90C |
| LP9543150EP | 4800 | 3.7 | 9.6 | 43 | 150 | 128 | <4 | 45C | 90C |
| LP9543128EP | 4400 | 3.7 | 9.5 | 43 | 128 | 116 | <3 | 45C | 90C |
| LP7543128EP | 3200 | 3.7 | 7.5 | 43 | 128 | 130 | <3 | 45C | 90C |
| LP7045135EP | 3200 | 3.7 | 6.8 | 45 | 135 | 88 | <3.5 | 45C | 90C |
| LP9548135EP | 5000 | 3.7 | 9.5 | 48 | 135 | 130 | <3 | 45C | 90C |