Cylindrical, with the chemistry of LiCoO2, offering 3.7V voltage, is so common in modern applications like notebooks computer, point of sales applications, portable navigation devices, portable multimedia player & mp3 player. Nearly all of your mobile applications can be extend in running time or have a slimmer design and less weight with MINAMOTO lithium-ion battery types. For all of these applications MINAMOTO offers full range size and capacity options.
Further, MINAMOTO is capable to provide added service for assembling PCB, connector, NTC, and etc. to build your own unique battery packs. Please look for our specialist, we can make the custom made pack to you.
Please find the most suitable sized battery from our product list.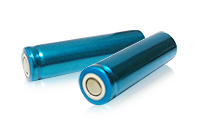 | Model | Nominal Capacity (mAh) | Nominal Voltage (V) | Diameter (mm) | Height (mm) | Weight (g) |
| --- | --- | --- | --- | --- | --- |
| Model | Nominal Capacity (mAh) | Nominal Voltage (V) | Diameter (mm) | Height (mm) | Weight (g) |
| LI-14430-650 | 650 | 3.7 | 14.5 | 42.5 | 17 |
| LI-14500-075 | 750 | 3.7 | 14.5 | 48.5 | 20 |
| LI-18500-140 | 1400 | 3.7 | 18.5 | 48.5 | 33 |
| LI-18650-220 | 2200 | 3.7 | 18.5 | 65.5 | 44 |
| LI-18650-260 | 2600 | 3.7 | 18.5 | 65.5 | 45 |
| LI-18650-320 | 3200 | 3.7 | 18.5 | 65.5 | 45 |
| Model | Nominal Capacity (mAh) | Nominal Voltage (V) | Diameter (mm) | Height (mm) | Weight (g) | Max. Continuous Current (mA) |
| --- | --- | --- | --- | --- | --- | --- |
| Model | Nominal Capacity (mAh) | Nominal Voltage (V) | Diameter (mm) | Height (mm) | Weight (g) | Max. Continuous Current (mA) |
| LI-18650P260 | 2600 | 3.7 | 18.5 | 65.5 | 46 | 5C |
| LI-18650HP220 | 2200 | 3.7 | 18.5 | 65.5 | 44 | 10C |
| LI-18650HP200 | 2000 | 3.7 | 18.5 | 65.5 | 44 | 10C |
| LI-18650P150 | 1500 | 3.7 | 18.5 | 65.5 | 43 | 10C |