Lithium Thionyl Chloride Battery have a lightest metallic lithium anode and a liquid cathode comprising a porous carbon current collector filled with thionyl chloride (SOCl2). They deliver a voltage of 3.6 V and with cylindrical, prismatic and wafer in shape, with spiral electrodes for power applications and for prolonged discharge. Lithium-thionyl chloride cells have a high energy density, partly because of their high nominal voltage of 3.6 V. It is three times greater than Alkaline batteries. It also has the widest operating temperature range of -55C to + 150oC. Because self-discharge is extremely low (less than 1% per year), this kind of cell can support long storage periods and achieve a service life of 10 to 20 years.
For different applications, the cells can be fitted with various types of connectors and assembled in various battery arrays, including a number of standardized versions.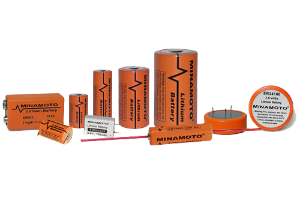 Main applications – energy type
Memory back-up
Real-time clocks
Utility metering
Automated Meter Reading
Wireless alarms and Security devices
Emergency locations transmitters beacon
Electronic toll collection
Professional electronics
Main applications – high power type
Utility metering
Automated meter reading
Alarms and security wireless devices
Mobile asset tracking
GPS
Emergency location transmitters beacons (ELTs, EPIRBs)
Professional electronics
Military radio-communication
Sonobuoys
Oil exploration
Automotive telematics
Telemetry
Main applications – high temperature type
Aerospace instrument and equipment
Data acquisition devices
Electronic testing instrument and equipment
Physical detection & NC wells detection tools
MINAMOTO lithium thionyl chloride cells are powerful and reliable lead-free and RoHS compliant, UL listed (MH45330) batteries, delivering unrivaled performance to power today have increasingly sophisticated technologies.
Equivalent Model:
TL-5902, TL-2150, TL-5151, TL-5101, TL-5111, TL-2155, TL-4955, TL-5155, TL-5955, TL-5903,TL-2100,TL-4903,TL-5104, TL-5920,TL-4920, TL-2200, TL-2300, TL-4930, TL-5930, TL-5137/DD, ER341270, TL-2135, TL-2135/P, TL-4935/P, TL-5135, TL-5135/P, TL-2134,TL-4934, TL-5134, TLH-2450
LS-14250, SL-14250C, LS-14500, LS-14500C, LST14500, LS-17500, LS26500, LS26500C, LS-33600, LSH20,
LS-33600C
SL-350/S, SL-750/S, SL-150/S, SL-361/S, SL-761/S, SL-360/S, SL-760/S, SL-770, SL-780, SL-386, SL-389, SL-389/P, SL-789, SL-789/P Xeno: XL-055F, XL-060F, XL-145F, XL-140F, XL-200F, XL-205F
ER6S-TC, ER6,ER6C,ER6LV, SB-AA11
ER14, SB-C01, SB-C02, ER20, SB-D01, SB-D02
ER34615, ER32L65, ER32L100