High Capacity, safe and powerful battery solutions for mobile energy supply.
Modern high power demanding applications like payment terminals, medical tools and apparatus, wireless routers, security backup stations, mining lights, toys and MP3 players, require a high quality powerful energy source for optimum performance. For all of these applications MINAMOTO offers a complete range of Ni-MH rechargeable battery including the Standard Cylindrical type, Button type, High Power type and High Temperature type.
Custom made packs are available, please contact our specialist.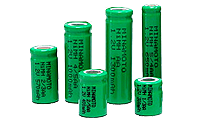 Cylindrical type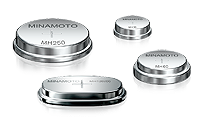 Button Type
NiMH Cylindrical Standard Type
| Model | Nominal Capacity (mAh) | Nominal Voltage (V) | Size | Diameter (mm) | Height (mm) | Weight (g) |
| --- | --- | --- | --- | --- | --- | --- |
| MH300AAA | 300 | 1.2 | 2/3AAA | 10.1 | 28 | 8.2 |
| MH120AAA | 120 | 1.2 | 1/3AAA | 10.1 | 15 | 4 |
| MH200AAA | 200 | 1.2 | 2/5AAA | 10.1 | 21 | 6 |
| MH70AAA | 70 | 1.2 | 1/4AAA | 10.1 | 10.5 | 3 |
| MH700AAA | 700 | 1.2 | AAA | 10.1 | 43.5 | 13 |
| MH800AAA | 800 | 1.2 | AAA | 10.1 | 43.5 | 14 |
| MH230AAA | 330 | 1.2 | 1/2AAA | 10.1 | 23.5 | 6.5 |
| MH400AAA | 400 | 1.2 | 2/3AAA | 10.1 | 28 | 8.4 |
| MH600AAA | 600 | 1.2 | AAA | 10.1 | 43.5 | 12 |
| MH500N | 500 | 1.2 | N | 11.7 | 28.5 | 10 |
| MH1200AA | 1200 | 1.2 | AA | 14.1 | 48.5 | 26 |
| MH1300AA | 1300 | 1.2 | AA | 14.1 | 48.5 | 26 |
| MH1600AA | 1600 | 1.2 | AA | 14.1 | 48.5 | 26 |
| MH2000AA | 2000 | 1.2 | AA | 14.1 | 48.5 | 27 |
| MH1700AA | 1700 | 1.2 | AA | 14.1 | 48.5 | 26 |
| MH1500AA | 1500 | 1.2 | AA | 14.1 | 48.5 | 26 |
| MH700AA | 700 | 1.2 | 2/3AA | 14.1 | 28.5 | 15 |
| MH600AA | 600 | 1.2 | 2/3AA | 14.1 | 28.5 | 14 |
| MH1800AA | 1800 | 1.2 | AA | 14.1 | 48.5 | 26 |
| MH500AA | 500 | 1.2 | 1/2AA | 14.1 | 24.5 | 13 |
| MH400AA | 400 | 1.2 | 2/5AA | 14.1 | 21 | 10 |
| MH300AA | 300 | 1.2 | 1/3AA | 14.1 | 16 | 7.8 |
| MH800AA | 800 | 1.2 | 2/3AA | 14.1 | 28.5 | 17 |
| MH2200AA | 2200 | 1.2 | AA | 14.1 | 48.5 | 28 |
| MH1000A | 1000 | 1.2 | 2/3A | 16.8 | 28.5 | 20.5 |
| MH650A | 650 | 1.2 | 1/3A | 16.8 | 21.5 | 14.5 |
| MH2200A | 2200 | 1.2 | A | 16.8 | 49 | 40.5 |
| MH1200A | 1200 | 1.2 | 2/3A | 16.8 | 28.5 | 20.5 |
| MH3500A | 3500 | 1.2 | 7/5A | 16.8 | 66.5 | 51.5 |
| MH2500A | 2500 | 1.2 | A | 16.8 | 49 | 42 |
| MH3800A | 3800 | 1.2 | 7/5A | 16.8 | 66.5 | 55 |
| MH2000A | 2000 | 1.2 | A | 16.8 | 49 | 40 |
| MH1800A | 1800 | 1.2 | 4/5A | 16.8 | 42.5 | 33 |
| MH18670-420 | 4200 | 1.2 | - | 18 | 67 | 63 |
| MH18650 | 4000 | 1.2 | - | 18 | 66 | 60 |
| MH18670-450 | 4500 | 1.2 | - | 18 | 67 | 63 |
| MH3300SC | 3300 | 1.2 | SC | 22.1 | 42 | 57 |
| MH2500SC | 2500 | 1.2 | SC | 22.1 | 42 | 53 |
| MH2800SC | 2800 | 1.2 | SC | 22.1 | 42 | 53 |
| MH3000SC | 3000 | 1.2 | SC | 22.1 | 42 | 54 |
| MH4500C | 4500 | 1.2 | C | 25.3 | 49 | 88 |
| MH4000C | 4000 | 1.2 | C | 25.3 | 49 | 85 |
| MH7000D | 7000 | 1.2 | D | 32.5 | 59.5 | 170 |
| MH8000D | 8000 | 1.2 | D | 32.5 | 59.5 | 172 |
| MH9000D | 9000 | 1.2 | D | 32.5 | 59.5 | 175 |
| MH12000F | 12Ah | 1.2 | F | 32.5 | 90.5 | 260 |
| MH13000F | 13Ah | 1.2 | F | 32.5 | 90.5 | 262 |
| MH3500D | 3500 | 1.2 | 1/2D | 32.5 | 36.5 | 84 |
| MH2000SC | 2000 | 1.2 | 4/5SC | 32.5 | 22.5 | 40 |
| MH600AAAA | 600 | 1.2 | AAAA | 8.7 | 43.5 | 12 |
NiMH Cylindrical High Power Type
| Model | Nominal Capacity (mAh) | Nominal Voltage (V) | Size | Diameter (mm) | Height (mm) | Weight (g) |
| --- | --- | --- | --- | --- | --- | --- |
| MH1900A/HP | A | 1900 | 1.2 | 14.1 | 48 | 38 |
| MH1300AA/HP | AA | 1300 | 1.2 | 14.1 | 48 | 25 |
| MH3000SC/HP | SC | 3000 | 1.2 | 22.1 | 42 | 55 |
| MH2400SC/HP | SC | 2400 | 1.2 | 22.1 | 42 | 53 |
| MH4000C/HP | C | 4000 | 1.2 | 25.3 | 49 | 86 |
| MH3500C/HP | C | 3500 | 1.2 | 25.3 | 49 | 84 |
| MH12000F/HP | F | 12Ah | 1.2 | 32.5 | 90.5 | 260 |
| MH8000D/HP | D | 8000 | 1.2 | 32.5 | 60.5 | 162 |
| MH7000D/HP | D | 7000 | 1.2 | 32.5 | 60.5 | 160 |
NiMH Cylindrical High Temperature Type
| Model | Size | Nominal Capacity (mAh) | Nominal Voltage (V) | Diameter (mm) | Height (mm) | Weight (g) |
| --- | --- | --- | --- | --- | --- | --- |
| MH300AAAA/HT | AAAA | 300 | 1.2 | 8.7 | 40 | 7 |
| MH500AAAA/HT | 5/4AAAA | 500 | 1.2 | 8.7 | 55 | 11 |
| MH600AAA/HT | AAA | 600 | 1.2 | 10.1 | 44 | 13 |
| MH1500AA/HT | AA | 1500 | 1.2 | 14.1 | 49 | 26 |
| MH1300AA/HT | AA | 1300 | 1.2 | 14.1 | 49 | 25 |
| MH1600A/HT | 4/5A | 1600 | 1.2 | 14.1 | 48 | 32 |
| MH2000A/HT | A | 2000 | 1.2 | 16.5 | 49.5 | 37 |
| MH2700SC/HT | SC | 2700 | 1.2 | 22.1 | 42 | 49 |
| MH2400SC/HT | SC | 2400 | 1.2 | 22.1 | 42 | 48 |
| MH2000SC/HT | SC | 2000 | 1.2 | 22.1 | 42 | 47 |
| MH4000C/HT | C | 4000 | 1.2 | 25.3 | 49 | 87 |
| MH12000F/HT | F | 12Ah | 1.2 | 32.3 | 59.5 | 260 |
| MH7000D/HT | D | 7000 | 1.2 | 32.3 | 59.5 | 165 |
NiMH Button – Standard Type
| Model | Nominal Capacity (mAh) | Nominal Voltage (V) | Diameter (mm) | Height (mm) | Weight (g) | Data Sheet |
| --- | --- | --- | --- | --- | --- | --- |
| MH16 | 18.00 | 1.20 | 7.9 | 5.30 | 1.00 | |
| MH12 | 18.00 | 1.20 | 11.8 | 3.30 | 1.30 | |
| MH30 | 40.00 | 1.20 | 11.8 | 5.30 | 1.80 | |
| MH60 | 80.00 | 1.20 | 15.4 | 6.10 | 3.50 | |
| MH100 | 110.00 | 1.20 | 15.3 | 8.00 | 4.40 | |
| MH120(O) | 160.00 | 1.20 | 15.4 (W) x 23.5 (L) | 5.40 | 5.80 | |
| MH170 | 230.00 | 1.20 | 25.2 | 6.50 | 10.20 | |
| MH250 | 280.00 | 1.20 | 25.2 | 7.60 | 12.00 | |
| MH280 | 330.00 | 1.20 | 25.2 | 8.70 | 13.20 | |
NiMH Button – High Temperature Type
| Model | Nominal Capacity (mAh) | Nominal Voltage (V) | Diameter (mm) | Height (mm) | Weight (g) | Data Sheet |
| --- | --- | --- | --- | --- | --- | --- |
| MH280/HT | 330 | 1.2 | 25.2 | 8.5 | 13.3 | |
| MH250/HT | 280 | 1.2 | 25.2 | 7.4 | 11.3 | |
| MH170/HT | 230 | 1.2 | 25 | 6.3 | 10 | |
| MH120(O)/HT | 160 | 1.2 | 15.1 (W) x 23.5 (L) | 5.3 | 5.7 | |
| MH100/HT | 110 | 1.2 | 15.2 | 7.8 | 4.4 | |
| MH60/HT | 80 | 1.2 | 15.2 | 6.1 | 3.5 | |
| MH30/HT | 40 | 1.2 | 11.6 | 5.2 | 1.8 | |
| MH12/HT | 18 | 1.2 | 11.6 | 3.2 | 1.2 | |