Polymer with the chemistry of LiFePO4, offering 3.2V voltage, is so common in Electronic vehicle, electric drill, solar and wind Energy storage, etc. All of these products also require a very powerful current supply. MINAMOTO LFP series would be the best option for these products. It also offers thin and high quality powerful energy sources for optimum performance. For all of these applications MINAMOTO offers full range size and capacity options.
The polymer battery can fit for every of your product as the dimension (Thickness, Width, Length) are subjected to customize mode to fit your requirement. Further, MINAMOTO is capable to provide added service for assembling PCB, connector, NTC, and etc. to build your own unique battery packs.
Please find the most suitable sized battery from our product list.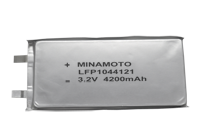 | Model | Nominal Capacity (mAh) | Nominal Voltage (V) | Diameter (mm) | Thickness (mm) | Width (mm) | Height (mm) | Weight (g) | Max. Continuous Current | Max. Pulse Current |
| --- | --- | --- | --- | --- | --- | --- | --- | --- | --- |
| Model | Nominal Capacity (mAh) | Nominal Voltage (V) | Diameter (mm) | Thickness (mm) | Width (mm) | Height (mm) | Weight (g) | Max. Continuous Current | Max. Pulse Current |
| LFP90210220 | 30Ah | 3.2 | | 9 | 210 | 225 | 750 | 2C | 5C |
| LFP803080 | 1300 | 3.2 | | 8 | 30 | 80 | 25 | 2C | 5C |
| LFP803048 | 800 | 3.2 | | 8 | 30 | 50 | 20 | 2C | 5C |
| LFP603450 | 700 | 3.2 | | 6 | 34 | 50 | 21 | 2C | 5C |
| LFP7542125 | 2500 | 3.2 | | 7.5 | 42 | 125 | 73 | 2C | 5C |
| LFP804350 | 1000 | 3.2 | | 8 | 43 | 50 | 23 | 2C | 5C |
| LFP1044121 | 4200 | 3.2 | | 10 | 44 | 121 | 100 | 2C | 5C |
| LFP805368 | 2000 | 3.2 | | 8 | 53 | 68 | 55 | 2C | 5C |
| LFP1267220 | 12Ah | 3.2 | | 12 | 67 | 220 | 350 | 2C | 5C |
| LFP9067220 | 10Ah | 3.2 | | 9 | 67 | 220 | 285 | 2C | 5C |
| LFP8067220 | 8000 | 3.2 | | 8 | 67 | 220 | 230 | 2C | 5C |
| LFP5567220 | 6000 | 3.2 | | 5.5 | 67 | 220 | 175 | 2C | 5C |
| LFP1275135 | 7500 | 3.2 | | 12 | 75 | 135 | 215 | 2C | 5C |
| LFP8075135 | 6000 | 3.2 | | 8 | 75 | 135 | 155 | 2C | 5C |
| LFP8298140 | 8700 | 3.2 | | 8.2 | 98 | 140 | 211 | 2C | 5C |
| Model | Nominal Capacity (mAh) | Nominal Voltage (V) | Thickness (mm) | Width (mm) | Height (mm) | Weight (g) | Max. Continuous Current | Max. Pulse Current |
| --- | --- | --- | --- | --- | --- | --- | --- | --- |
| Model | Nominal Capacity (mAh) | Nominal Voltage (V) | Thickness (mm) | Width (mm) | Height (mm) | Weight (g) | Max. Continuous Current | Max. Pulse Current |
| LFP101945HP | 440 | 3.2 | 10 | 19 | 45 | 12 | 10C | 20C |
| LFP803048HP | 800 | 3.2 | 8 | 30 | 48 | 24 | 10C | 20C |
| LFP904267HP | 1800 | 3.2 | 9 | 42 | 67 | 51 | 10C | 20C |
| LFP124261HP | 1600 | 3.2 | 12 | 42 | 61 | 55 | 10C | 20C |
| LFP903496HP | 2000 | 3.2 | 9 | 34 | 96 | 61 | 20C | 40C |
| LFP9042125HP | 3200 | 3.2 | 9.6 | 42 | 125 | 108 | 20C | 40C |
| LFP9336120HP | 2200 | 3.2 | 9.3 | 36 | 120 | 75 | 30C | 60C |
| LFP9042125HP | 3000 | 3.2 | 9 | 42 | 125 | 88 | 30C | 60C |
| LFP6842125HP | 2000 | 3.2 | 6.8 | 42 | 125 | 68 | 30C | 60C |
| LFP754382HP | 1800 | 3.2 | 7.6 | 43 | 82 | 57 | 30C | 60C |
| LFP1044125HP | 4000 | 3.2 | 10 | 44 | 125 | 118 | 30C | 60C |
| Model | Nominal Capacity (mAh) | Nominal Voltage (V) | Thickness (mm) | Width (mm) | Height (mm) | Weight (g) | Operating Temperature (ºC) |
| --- | --- | --- | --- | --- | --- | --- | --- |
| Model | Nominal Capacity (mAh) | Nominal Voltage (V) | Thickness (mm) | Width (mm) | Height (mm) | Weight (g) | Operating Temperature (ºC) |
| LFP703496HT | 1400 | 3.2 | 7 | 34 | 96 | 41 | -10 ~ +80 |
| LFP7042125HT | 2500 | 3.2 | 7 | 42 | 125 | 75 | -10 ~ +80 |
| LFP6042125HT | 1500 | 3.2 | 6 | 42 | 125 | 50 | -10 ~ +80 |
| LFP11044125HT | 4000 | 3.2 | 11 | 44 | 125 | 120 | -10 ~ +80 |